Onsite Event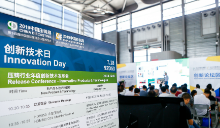 Annual Innovative Technologies & Products
"Innovative Die Casting Technologies and Products" has been organized annually by CHINA DIECASTING since 2017. Technologies and products are selected industry-wide to promote enterprise competitiveness and industry development.

Release Conference
Innovative Products & Technologies
Time
2021.7.7 10:00-12:30
Venue
Theme Forum Area, E5D33
Organizers
Foundry Productivity Promotion Center
Foundry Institution of Chinese Mechanical Engineering Society
Supporting Partners
Die-casting Weekly
Zonzu Technology
NürnbergMesse China Co., Ltd.
Green, Smart and Connected Super Large Die Casting Unit, Dreampress 9000
Qian Yong, Project Manager, L.K. TECHNOLOGY HOLDINGS LIMITED
Carat 840/920 Super-large Two-platen Die Casting Machine
Wang Sining, Product Manager of DC Aisa, Bühler (China) Machinery Manufacturing Co.,Ltd.
SADD Cast-casting Automatic Defect Recognition Software Based on CT and X-ray
Li Jingya, Image Product Director, Beijing Supreium Science and Technology Co.,Ltd.
Lean Digital Overall Solution for Die Casting Industry Based on Jiwang J9 MES System
Wang Caobin, Vice President Commerce, Ningbo Jiwang Information Technology Co., Ltd.
The Constant Temperature Control System of High, Middle and Low Temperature Apply in the Mold for Large-sized Structure Components
Zhang Jiawei, General Manager, Guangzhou Daochen Technology Co., Ltd.
Stan Wu, General Manager, DeepSea Precision Tech (ShenZhen) Co.,Ltd.
The 200℃ Temperature Control Unit Used for Automobile Structural Parts
Wang Ping, Deputy General Manager, Suzhou AODE Precise Equipment Co.,Ltd.
Horizontal Five-axis Double-station Die Casting Products Machining Center
Zhao Xiaoyu, Deputy General Manager, PRATIC CNC Technology Co.,Ltd.
Foehl Nano-coating Technology
Liu Bin, Production Manager, Foehl China Co.,Ltd.
YIZUMI LEAP Series New Product Launch
Larry Wang, Manager of YIZUMI Product & Marketing Management Department, Guangdong Yizumi Precision Machinery Co.,Ltd.
MAGMASOFT 5.5 Released New Features
Yale Yan, Support & Engineering Director, MAGMA Engineering (Suzhou) Co.,Ltd
Wanfeng Intelligent Energy Saving Tower Type Melting Furnace
Chen Zhenqiu, Pre Sales Technical Chief; Zhejiang Wanfeng Technology Development Co.,Ltd.
B5W Standard Deburring Machine
Chen Yuejun, Technical Director, Guangzhou Techno Wave Automation Equipment Co., Ltd.