Press release
China Nonferrous Alloys & Special Casting Exhibition 2016 –Evolution ·Technology
Non-ferrous casting industry is the fastest growing sector of the world's foundry industry in recent years because of new applications and increasing demand from existing users. It not only means new opportunities for investment and business but also indicates the most important development direction of foundry industry in the future.
To help enterprises in the industry grasping this opportunity,FICMES decided to launch China Nonferrous Alloys & Special Casting Exhibition since 2016. The exhibition will be organized concurrently with the well recognized event of China International Diecasting Congress and Exhibition (known as CHINA DIECASTING) at Shanghai New International Expo Center from July 12th to 14th 2016.
The dual-show initiative will present a full scope of non-ferrous casting industry, covering the whole supply chain. Aiming at providing the latest products and technology to the buyers from the application fields such as automotive, the show will gather all the industry resources under one roof. China Nonferrous Alloys & Special Casting Exhibition (CNF) is established to provide another distinguished platform for this area.
CHINA DIECASTING 2016,a prospective success
The 11th China International Die Casting Congress & Exhibition (CHINA DIECASTING 2016) is scheduled from 12th to 14th of July 2016 at the Shanghai New International Expo Center (SNIEC).The show will continue its success with increased space to 23,000m2, inviting more than 300 exhibitors and 10,000 trade visitors from the domestic and overseas die casting market. The concurrent conferences, technical forums and match-making events will be another attraction.
Authorative organization
FICMES
FICMES - the Foundry Institution of China Mechanical Engineering Society (China Foundry Society) was founded in 1962 and accepted as the official member of WFO in 1978. It is a national organization fully committed to the development of China foundry industry, technology and trade. Since 1997, FICMES has organized CHINA DIECASTING over 20 years, which is acknowledged as one of the leading international shows of the industry in the world. Besides, FICMES' annual congress, China Foundry Week, is also the most important technological and industrial conference.
A worldwide alliance
Supported by international partners like NürnbergMesse Group, Japan Keikinzoku Tsushin Al Co., Ltd., WFO, CEMAFON and etc., the exhibition has the best opportunity to collect the industry resources from all over the world, and present the latest products and technologies.
Exhibit Profile
Quality castings of all non-ferrous alloys-Aluminum, Zinc, Magnesium, Copper, Titanium
Specialty equipment for non-ferrous casting processes including low pressure die casting,
high pressure die casting, gravity die casting, sand casting, differential pressure casting,
semi-solid casting, electromagnetic casting, injection casting machines, etc.
Melting and holding equipment for non-ferrous alloys
Environmental equipment for melting and casting processes
Inspection and process control equipment
Fettling, machining and post-processing equipment
Digital and intelligent technology and equipment
Process materials and consumables in all casting processes
Molten metal treatment materials
Base metals and alloys
New materials, new technology and new equipment
Software of process simulation and business management
Magazines and publications on technology and trade information
Visitors and buyers are invited from below industries
Automobile industry
Computer and
telecommunication
Power supply
General machinery
Railway
Chemical engineering
Aerospace industry
Shipbuilding industry
Sports and leisure
Toy and artware
Distinguished platform for connecting business and technologyom
The 3rd International Symposium on Nonferrous Alloys and Special Casting Technologies
Researchers and experts from top organizations and institutions will be gathered in the symposium to discuss the industrial and technological topics in the non-ferrous casting
industry. Technological achievements in new materials, new designs of application, new processes of production will be reported, all aiming at developing new business opportunities.
Linkage with other international platforms
Supported by NürnbergMesse Group, China Nonferrous Alloys & Special Casting Exhibition 2016 is linked with other international exhibitions, you are known by more buyers internationally.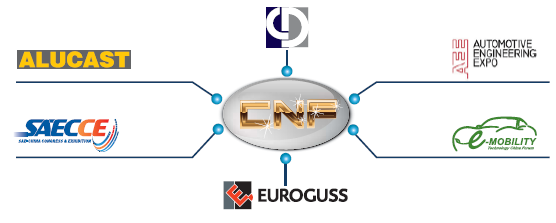 A new brand image, integration and upgrade
China Nonferrous Alloys & Special Casting Exhibition is established on the success of CHINA DIECASTING. With a wider range of casting technology, the show is expected to be more successful and attractive for all the participants.