Press release
Ceaselessly Tilling without Forgetting Our Initial Determination to Witness 20 Years of Diecasting I

Ceaselessly Tilling without Forgetting Our Initial Determination to Witness 20 Years of Diecasting Industry, and CHINA DIECASTING Is Grateful!
How time flies! The first China International Diecasting Congress & Exhibition (CHINA DIECASTING) was held in April, 1997. With the initial determination of serving the diecasting industry and building a high-quality platform, FICMES has fostered this exhibition brand for 20 years with the support and encouragement from all parties. By reviewing the past, China's diecasting industry was just starting; by looking at the presence, all brands are gathered together and many of them have accomplished with something! During these 20 years, CHINA DIECASTING has witnessed the development history of many corporate brands and ceaselessly tilt to serve over a thousand diecasting companies and accompany their growth.
What 20 years of holding brings is the booming of China's diecasting industry, and in the next 20 years, we are looking forward to making progress together, obtaining steady development, going global by keeping a foothold in China and building a new future together! Now, we stand on the 20-year milestone to recall all images and we are so grateful that you are here!
Official release of China International Diecasting Congress & Exhibition Review (20 years)
The Foundry Institution of China Mechanical Engineering Society (FICMES) has committed to providing all-around services to the diecasting industry since 1997, by holding
17 diecasting exhibitions
in Shanghai, Dongguan and Beijing, serving
over a thousand diecasting companies
and
over 100,000 person-times of professional audiences
, convening
17 international diecasting meetings
,
including over 400 theses
, organizing and preparing
8 national standards and 3 mechanical industrial standards
, and granting awards (including the
Gold Award Casting
,
Gold Award Die
, Lifetime Achievement Award, Outstanding Contribution Award and Outstanding Youth Award), which drew the broad attention of this industry. At the same time, it has taken the initinitive to communicate with overseas trade organizations, organized diecasting companies in China to take part in
large international meetings and exhibitions,
and led them to visit the advanced diecasting companies in the world for
learning and communications
. In order to memorize the 20 years of CHINA DIECASTING we jointly have, we put these wonderful moments into a book for you!

Click here to download the PDF version Review,
and recall the 20 years of glorious days for CHINA DIECASTING!
CHINA DIECASTING, growing up together with these companies!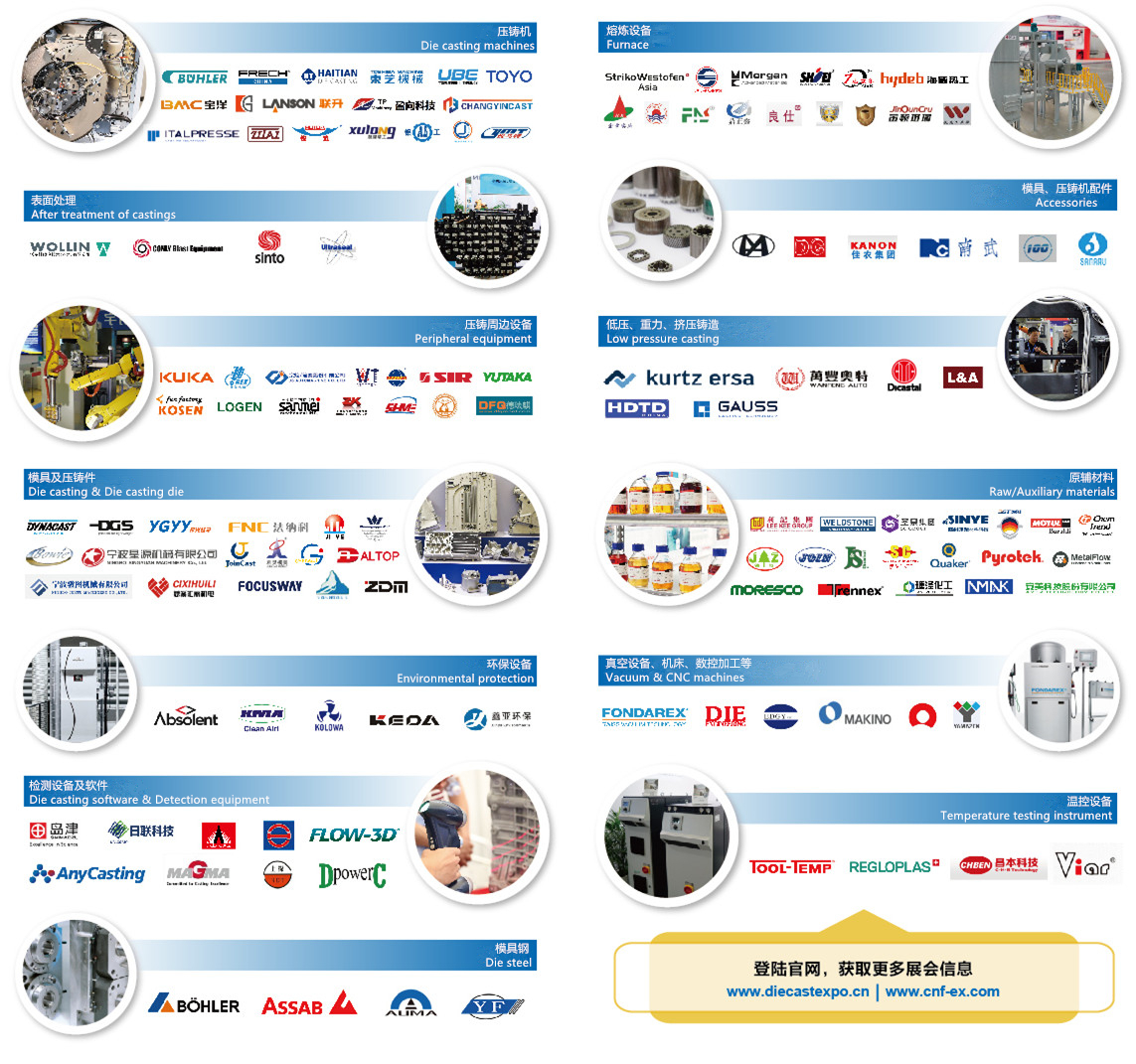 While witnessing the growth of China's diecasting industry, CHINA DIECASTING has become the diecasting exhibition with the largest scale in Asia, and it will share the diecasting global resources by working with the EUROGUSS and ALUCAST programs of Nürnberg Group in Germany.
CHINA DIECASTING 2017 (the 12th China International Diecasting Congress & Exhibition)
will be held in Shanghai New International Expo Center in
July 19th -21st, 2017
with the exhibiting area of
23,000 square meters, about over 350 exhibitors
and
15,000 audiences.

Register immediately for a free visit and multiple surprises!
· Fast entry without waiting in queue
· Free catalogue
· Receive a souvenir from organizer
· Lucky draw for winning iPad
Visitor Pre-registration
: http://diecastexpo.cn/en/visitors/pre_registration