Press release
Top competition in Chinese die casting industry, brand accompany activity at CHINA DIECASTING
As one of the most important events of CHINA DIECASTING, "Best Die casting Competition" has become a high-end platform, which shows the latest technology development level and trend of Chinese die casting industry. The Competition will be a highlight and eye catcher during the coming CHINA DIECASTING 2017, which to be held from July 19 to 21 at Shanghai New International Expo Center (SNIEC), for the following reasons and advantages: numerous high quality die casting products covering all categories, strict evaluation rules of authority experts, catching most of attention of on-site professional visitors and generous awards from organizers.

55 companies with 113 pieces of die casting
Network voting attracted 2 w persons' attention, meanwhile 3000 people voted
At the exhibition came 'Gold Award' for 4 pieces of components and
16 pieces of die castings won 'Excellence Award.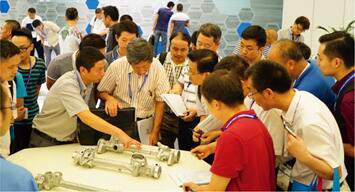 Highlights
Authority jury
▪ Members of jury are all senior experts in die casting industry
▪ Strict evaluation rulesProfessional platform
▪ Make full use of 20 years industry resources of CHINA DIECASTING
▪ More than 60 well-known die casting companies gather under one roof
Business opportunities
▪ 15000 professional visitors
▪ Several Match-making Meetings for Molds & Die Casting
▪ Invite visitor delegations from oversea
Brand promotion
▪ Release reports of "Best Die casting Competition" from the beginning
▪ More than 30 media promote this top event

Evaluation process
Launch date (March1.)
▪ Release competition agenda
Application (March 10. – June 1.)
▪ Submit the application forms.
Network promotion (June 1. - July 1.)
▪ Online promotion starts on social media and official website
▪ Network voting leads to "Online most popular award";
On site evaluation (July 19-21)
▪ Display products in "Best Die casting Competition Area"
▪ Jury experts evaluate die casting components on site
▪ 'Gold Award' and 'Excellence Award' for die castings and molds
▪ Release results and award winner companies on exhibitor gala dinner

Award
1. "Gold Award" and "Excellence Award" are established as a celebration of ultimate achievement in the die casting industry.
2. Cooperate media from China and abroad to promote the winner companies; Free promotion in self-owned magazine 'die-casting world' and social media

For more information please visit www.diecastexpo.cn/en.

Contact us
NürnbergMesse China Co., Ltd.
Ms. Kelly Wang
Tel: +86 21-60361220
Fax: +86 21-52284011
Email: kelly.wang@nm-china.com.cn