Industry news
Linamar Bids for Montupet, Aims for a Global Casting Enterprise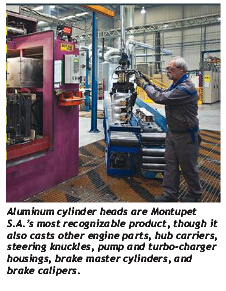 Canada's Linamar Corporation aims to be a global supplier of aluminum automotive castings, which is the reason it is bidding $875 million (C$1.16 billion / euro771 million) for Montupet S.A., the French foundry group that supplies cast and machined components to automakers like Audi, BMW, Ford, GM, Nissan, and Volvo.
Senior executives of Montupet, who reportedly control 36% of the group, have agreed to Linamar's $82.00/share (C$105 / euro71.53) tender offer, a 15.5% premium on the shares' closing value October 14.
The buyer noted it has financing commitments in place for up to 100% of the cash cost of the purchase, under conditions "largely consistent" with its current syndicated credit facility.
"We are thrilled to reach these agreements with Montupet and the key shareholders of Montupet to support our tender offer," announced CEO Linda Hasenfratz. She described the target company as "a technical leader" with engineering and processing expertise in cylinder head manufacturing, "where we intend to grow and leverage our respective strengths.
"Our businesses are very complementary, with our finished machining strength and Montupet's casting expertise," Hasenfratz noted, "and we are remarkably aligned in our business philosophies, manufacturing discipline, and employee dedication with strong values and culture given our family business approach."
The CEO added that combination would give automotive customers "onestop shopping for collaboratively designed, cast, fully machined and assembled cylinder heads and other light metal cast products."
Linamar, headquartered in Guelph, Ont., has two operating segments, Powertrain/Driveline and Industrial. Between these are four operating divisions, Machining & Assembly, Light Metal Casting, Forging, and Skyjack: the first three of these manufacture metal parts and systems for automotive customers. It has 48 plants and five research centers, in addition to sales offices in 14 countries.
In July Linamar announced a joint-venture agreement with GF Automotive to build an automotive aluminum diecasting plant in the southeast United States, to produce powertrain, driveline, and structural castings for a European automaker. That project, too, was described as a combination of complementary capabilities in casting and machining.
Montupet maintains seven foundries in France (2), Bulgaria, Mexico, Northern Ireland, and Spain. It has a joint-venture foundry in India with Jaya Hind Industries, a subsidiary of Force Motors, a manufacturer of light commercial vehicles. The group's expertise is considered to be its technology for casting aluminum cylinder heads, though it also supplies other engine parts, hub carriers, steering knuckles, pump and turbo-charger housings, brake master cylinders, and brake calipers.
Linamar in its announcement called particular attention to Montupet's expertise in low-pressure diecasting and gravity diecasting.
The Montupet management and shareholders agreeing to the tender offer would remain with the combined organization, according to Linamar's proposal.
The filing of the tender offer is expected to take place in November 2015, and would be open to the public in early December. Assuming all necessary clearances are obtained and all steps are completed successfully, the merger would close in February 2016.
Linamar anticipates holding at least 95% of the share capital and voting rights of Montupet, and at that point it intends "to implement a squeeze-out of the outstanding shares and voting rights of Montupet."
"Montupet and Linamar complement each other very well combining leading expertise in casting and machining," stated Stéphane Magnan, chairman and CEO of the French group. "Montupet has acquired a global reputation with manufacturers that has resulted in strong growth in sales supported by the company's very strong financial position today. We want to choose the right partner to continue this legacy. We strongly believe Linamar, with its global footprint, strong values, diverse process capabilities, and automotive manufacturer relationships is a good choice to lead Montupet's growth and success in the long term."
(Source from: Foundry Management & Technology, Nov 2015)