Industry news
Guangzhou DGS, A Manufacturer from Switzerland of Diecastings for High-end Vehicles
As the downstreaming part of the industrial chain, diecastings and their manufacturers are the most giant entities on the chain. The exhibitors are mostly manufacturers of equipment and consumables, but CHINA DIECASTING values the communications and opinion exchanges between the the upstreaming manufacturers and downstreaming manufacturers and between suppliers and buyers very much and it does a lot of work and takes many measures to balance the proportion of the upstreaming and downstreaming exhibitors and increase the proportion of the diecasting manufacturer, for example, since 2015, it has set the "Zone for dies and diecastings" and upgraded the exhibition stands in a unified manner, held the activities for high-quality castings, created the "Directory of high-quality dies and diecastings", helped its co-organizer, Nürnberg, with their diecasting exhibitions in Europe and India, and provided overseas promoting platforms for enterprises.
The continuous efforts of the organizer harvests good return and CHINA DIECATING 2017 attracts more well-known diecasting exhibitors from home and abroad than any of the previous ones. Guangzhou DGS Metal Products Co.,Ltd. ("Guangzhou DGS"), the wholly-owned subsidiary set in China by DGS Group (Switzerland), is one of them.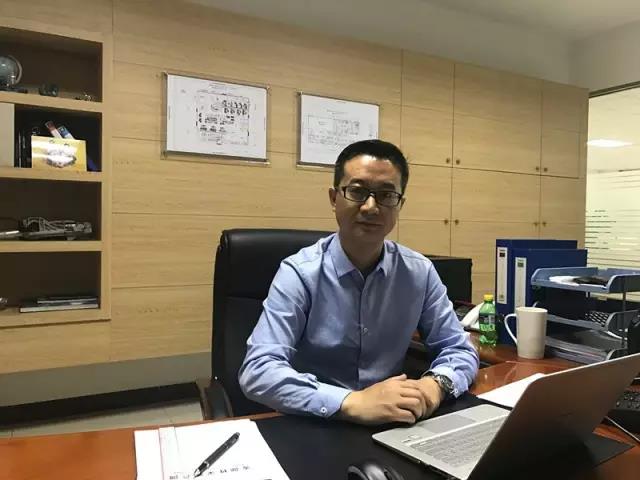 Mr. Song Chengliang
The automobile structures with the Swiss bloodline makes a stage pose in CHINA DIECASTING
Mr. Song Chengliang, a director/general manager of Guangzhou DGS Metal Products Co.,Ltd. says that DGS Group is in the leading position of structure production area, and Guangzhou DGS is also one of the first few diecasting companies that can produce automobile structures in bulk. In this exhibition, Guangzhou DGS will display its latest structure products, and high-quality aluminium alloy, magnesium alloy and special magnesium alloy diecasting used for automatic parts manufactured by the factories in Switzerland and Guangzhou.
By virtue of advance diecasting techniques, die design and production process, the diecastings produced by Guangzhou DGS are widely pursued by internationally well-known complete vehicle manufacturers and it has become a supplier of high-and mid-end diecasting products and solutions in China. Mr. Song says that besides the highly automatic production, our advantages mainly lie in the unique die design, and we can use a diecasting machine with smaller tonnage to achieve more economic production. We use high vacuum diecasting and design efficient and reliable thermal treatment equipment with our suppliers based on our rich experiences in the production of structures to reach the strict requirements on mechanical property of products from our customers.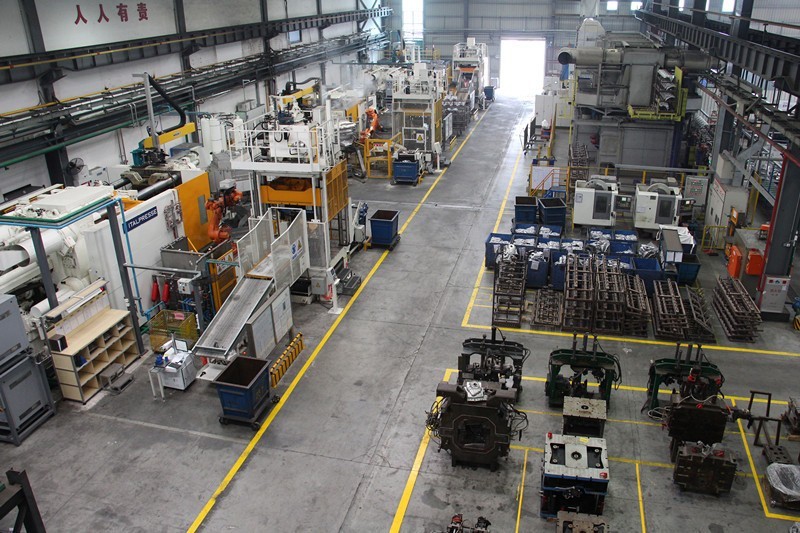 Guangzhou DGS diecasting workshop
He also reveals that in 2017, Guangzhou DGS will introduce internationally advanced electronic information management system to achieve the automatic monitoring and traceability of the overall process of the structure products.
The performances of their business units are outstanding and it will enhance the marketing investment
In the last year, Guangzhou DGS obtained good performance in many business units, and received affirmation and recognition of our customers. Mr. Song says that last years, they started to build the R&D center, which will be established this year. They realize the localized design and manufacturing of almost all dies and their die export scale to Europe creates a new high again.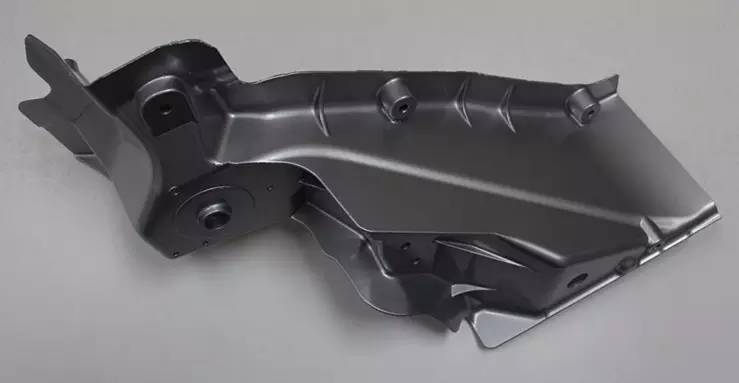 An automobile structure
Mr. Song then says that they expand our sales and project team, and establish better and tighter relationship with all customers by means of faster feedback and effective communication, and are rated as a Grade A supplier by many customers. In the structure area, besides Mercedes-Benz (Beijing), they also obtain the a new project from FAW Audi, which is now going smoothly and will realize mass production in early 2018.
In such market environment with fierce competition nowadays, "Good wine also needs a bush". Guangzhou DGS realizes its shortcoming in marketing and it decides to start from the largest diecasting exhibition, CHINA DIECASTING, in China, by recommending high-quality diecastings and solutions from Switzerland to customers in China.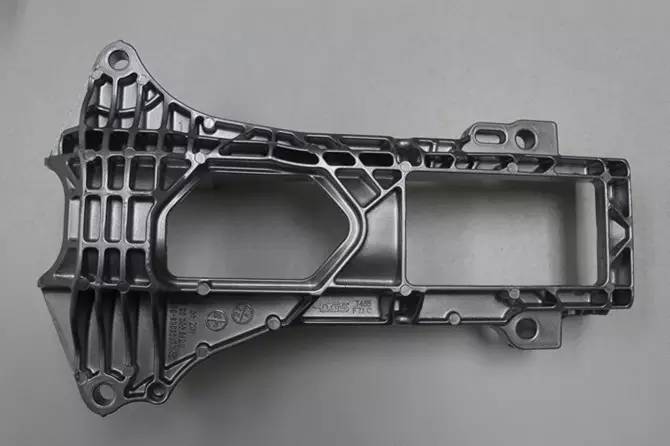 A steering bracket
Mr. Song Chengliang says that in recent years, they have been devoted themselves to internal management and optimization because of their numerous projects. Their marketing is somewhat left behind, so they decide to sort to CHINA DIECASTING this year. They hope that after this exhibition, they can show the market with the capabilities and plans of DGS Group and DGS China and significantly improve DGS brand awareness.
The automobile industry is the largest user industry for DGS and he is optimistic about China's automobile market
Guangzhou DGS is committed to supplying diecasting structures and products to finished automobile and auto parts manufacturers. The automobile industry is the largest user industry for DGS, and Mr. Song has his own unique opinions on the changes to China's automobile market. He says that in 2016, the total growth of China's automobile market is better than expected, which is a new high, and the growth in SUV is still strong. The sales volume for passenger vehicles is 24.3 million, which is 14.6% higher than 2015. In the aspect of models, SUV and MPV have continuous and rapid growth by 43.7% and 16.2%, while sedan grows slowly by only 2.9%, and minibus significantly decreases by 37.1%.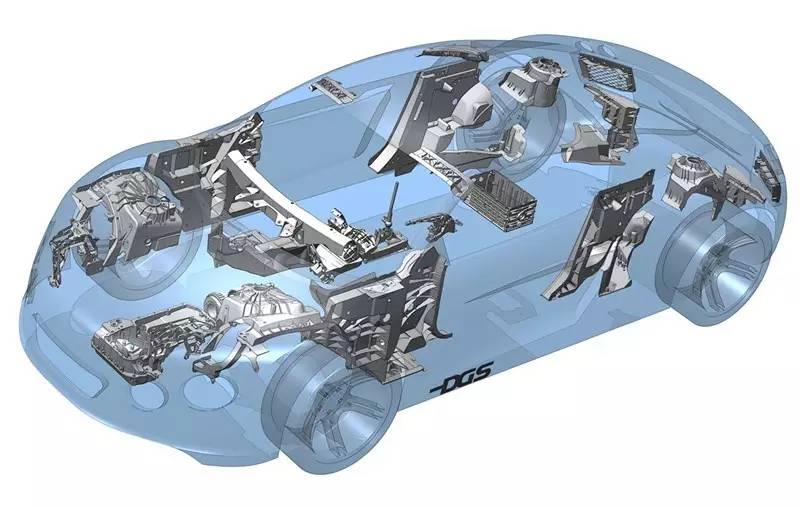 Application of DGS diecastings on finished automobiles
With respect to passenger vehicles, he says that the performance of Chinese self-owned brands are eye-catching in this area, especially because of their continuous growth in innovation and quality and the launch of new SUV and MPV models. Their market share is as high as 43%, where SAIC, Geely and Great Wall Motor grow much faster than the average market level.
Mr. Song believes that in the current domestic market, the competition from joint venture automobile manufacturer is increasingly fierce, while the high-end vehicle market has so many strong players. The most outstanding one is Mercedes-Benz (Beijing) with 26.7% yearly growth, which intends to catch up with and surpass BMW and Audi and reshuffle the cards. In addition, the auto technology progresses rapidly and the light-weight trend is more and more popular all over the industry, many Internet companies flock into the auto industry, and the developing speed of new energy vehicles, autonomous vehicles and smart vehicles are faster than ever.
About the DGS Group in Switzerland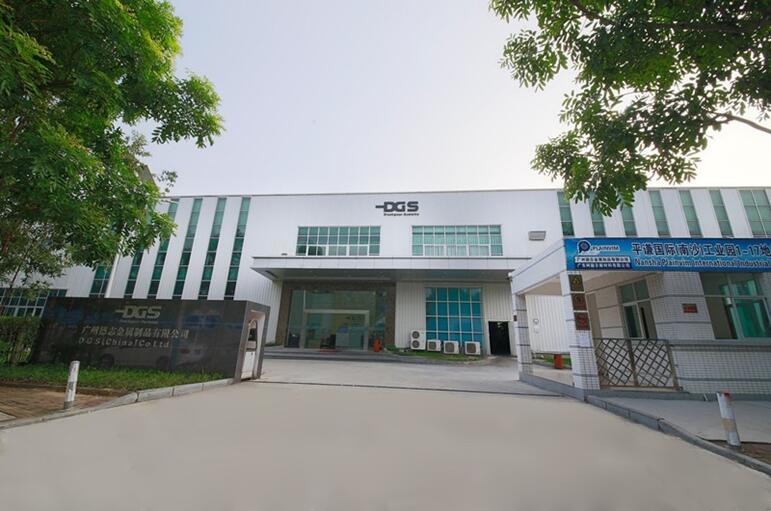 Exterior of Guangzhou DGS
DGS Group is a manufacturer for automobile-purposed diecasting with internationally advanced technologies, and its HQ is in Switzerland. It has three factories in St. Gallen of Switzerland, Liberec of Czech Republic and Nansha, Guangzhou of China. The Group has all-around qualifications and capabilities in the aspects of material, product and process development, and its production processes include diecasting, machining, thermal treatment, assembly and spraying with 49 sets of diecasting machines with 350-3200 tons mold clamping force. The Guangzhou subsidiary was established in 2007 to mainly produce the aluminium alloy (including structures) and magnesium alloy diecastings and system assembly for the application on body structures, dashboard holders, front and rear end modules, steering systems, gear shifting system and hand brake system.