Onsite Event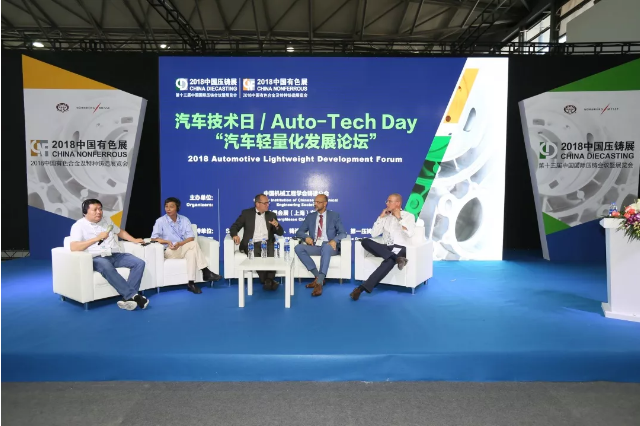 Auto-Tech Day
Throughout the trend of global automotive market development, we offer a brilliant platform, including: Forum& seminar, match-making and display, to explore and show the impact on the automotive casting design and manufacturing technology influenced by the revolution in the driving mode and the energy form under the circumstances of lightweight and new energy for automotive in the future.

Organizer:
Foundry Institute of Chinese Mechanical Engineering Society
NürnbergMesse China
Supporting Organization:
SPOTLIGHTMETAL
GIESSEREI PRAXIS
AluMag

1. 2018 Automotive Lightweight Development Forum:
Lightweight, EV-tech, and intelligent manufacturing- the development of the global automotive industry leads the revolution of die casting technologies. A professional platform for OEM like
GM
and
DongFeng Motor
, leading die casters like
GF
and
DGS
, and consultant from Germany and Austria to share their views and advanced die casting solutions.
Date & Time:
19
th
, July 10:00-16:00
Venue:
Auto-Tech Day Area, Booth No.: N3D72, Hall N3, SNIEC
Forum Agenda
10:10 – 10:40 - Die Casting from a European Perspective
Dr. Timo Würz, CEMAFON
10:40 – 11:10 - Lightweight technology development strategy & practice in DF Motor
Mr. Zezhong Wang, Casting expert / DF Motor
11:10 – 11:40 - Innovation and development of magnesium auto part
Mr. Boyu LIU, Project engineer for Structure parts / GF Casting Solutions
11:40 – 12:10 - Automotive consumption of lightweight materials: Impact of EV and automatic driving Level 1 to 5
Mr. Jost GAERTNER, Managing Partner / AluMag Automotive GmbH
13:30 – 14:00 - Case study for lightweight casting development
Mr. Peter XU, Red X & Casting Specialist / General Motors
14:00 – 14:30 - How mega trends do influence casting business
Mr. Andreas Müller, CEO / DGS
14:30 – 15:00 - Challenges and solutions in the development and production of die casting for EV
Mr. Egon Neuwirth, Managing Director / N-CE Neuwirth Consulting & Engineering
15:00 – 15:30 - TBD
BYD Auto Industry Co., Ltd.
2. Innovative Die Casting Auto Parts Display:
More than 10 OEMs or Tier one supplier like Changcheng Motor, BYD, GF, DGS will display their Top-grade auto die casting parts focusing on lightweight and new energy technology applications.
Date & Time:
18-20
th
, July 10:00-17:00
Venue:
Auto-Tech Day Area, Booth No.: N3D72, Hall N3, SNIEC